Heron, Pynes among honorees in weekend of dedications kicking off June 17
Posted on June 1, 2016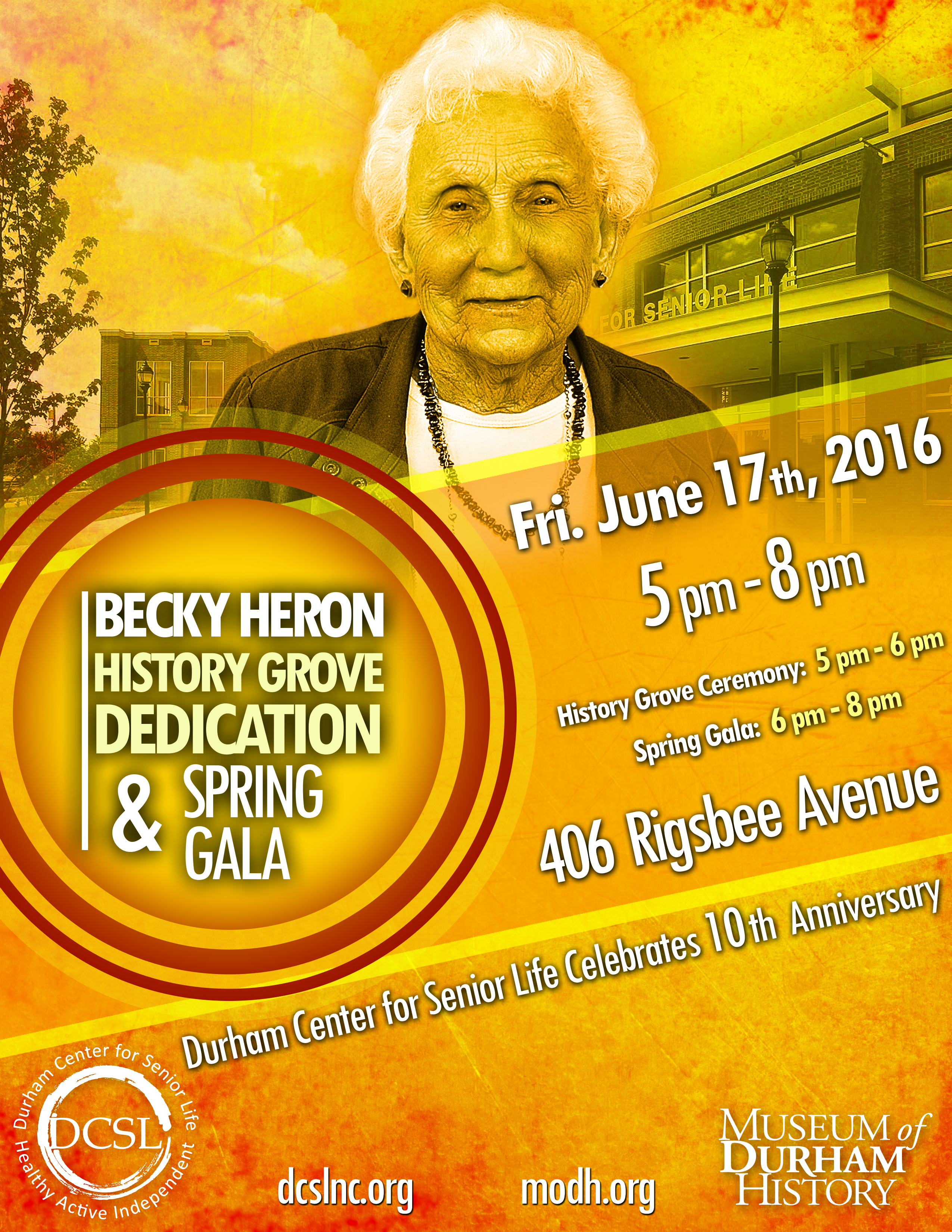 On Friday, June 17, 5pm-6pm, the Museum of Durham History and Durham Center for Senior Life (DCSL) invite the public to attend a History Grove dedication ceremony on the plaza in front of the DCSL honoring the late Becky Melton Heron and other DCSL founders Howard Clement of late, Jack Preiss, John Lucas and Patricia Robertson. Ms. Heron will be the remembered by friends and peers at the dedication. Ms. Heron, a Durham County Commissioner (1982-2011), was a vigorous supporter in the planning and construction of the Senior Center and an advocate for resources for senior citizens.
On Saturday, June 18, join us at Orchard Park, 1000 S. Duke Street in the Morehead Hill Neighborhood for the dedication of GEORGE AND MARY PYNE HISTORY GROVE. 
The Museum of Durham History partners with local organizations to establish small groves of native trees and plants to honor individuals, families and others who played significant roles in creating our unique community. Each grove contains seating where visitors can pause and reflect, and every site has a durable marker naming the honoree.
---
From 6pm-8pm on Friday the 17th, the DCSL celebrates the 10th Anniversary of their Rigsbee Avenue Senior Center.  The center will host an evening of dining and dancing, featuring Johnny White and the Elite Band, with delectable treats from a variety of local restaurants.
The public is invited to attend the gala, with tickets still available for $35.00 for singles and $65.00 for couples. Learn more at www.dcslnc.org or by phone at 919-688-8247.