Archiving Durham's Covid-19 Experience
Posted on May 5, 2020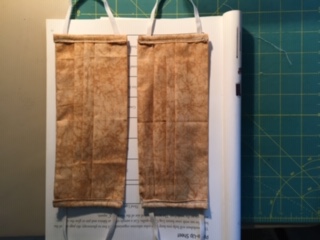 Keeping a journal, writing notes, and recording your thoughts can be helpful in times like these. Reflecting on your experience throughout the COVID-19 crisis is important and your perspective could some day be a useful record for people studying the history of this pandemic.
Help us record the local experience and feel free to share with us on social media or email: info@modh.org
Last week, we shared how Museum of Durham History volunteer Kathy Claspell is journaling her pandemic experience. This week, another volunteer, Lena Dunston, shares how she is assisting in the fight against Covid-19:
---
 April 12, 2020 
 I am doing okay. This virus has created a new world for everyone. Cooking and cleaning is boring. I made masks for my family and now the Church has started a project for first responders. I made four on Friday and cut two more. 
April 15, 2020 
 I received an email from one of my quilting sister. I decided to try it by making masks for my family. I used the balance of my batik fabric to make some mask for the Church project.  I have a small stack of materials at my home that I had purchased over the years. So, I didn't have to go out to purchase anything. However, I am currently out of fusible that I used in the masks. 
Check out the instructions Lena used for making the masks here!