A weekend of rememberances for MLK
Posted on January 14, 2016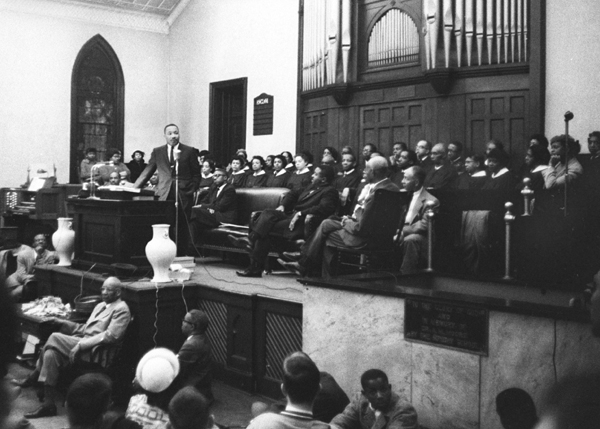 It's Martin Luther King, Jr. holiday weekend. For many this means an extra day to spend with family and friends and an opportunity to celebrate the legacy of Dr. King. Check out some of the events taking place in Durham.
Commemoration Events
A Cultural Arts Celebration of the Life of Rev. Dr. Martin Luther King, Jr.
Hayti Heritage Center- 801 Fayetteville Street
January 15th 6:00pm–8:00pm
Justice or Just Us: Who is Working for a More Perfect Union?- Duke University Dr. King Commemoration
Duke University's Page Auditorium
January 17th 3:00pm–5:00pm
Martin Luther King Day Sermon- Delivered by Dr. Rodney S. Sadler Jr.
Watts Street Baptist Church
January 17th 11:00 am
Birthday Party for Martin Luther King Jr.– Celebrate, Donate, Serve
Northgate Mall
January 18th 10:30 am — 1:00 pm
Unity March and Rally
Begin at North Carolina Mutual National Historic Landmark
Conclude at First Presbyterian Church
January 18th 10:30 am
Dr. Martin Luther King, Jr. Celebration Prayer Breakfast
Sheraton Hotel and Convention Center
January 18th 7:00 am
Sporting events
NCCU vs Hampton University women's basketball
McDougald-McLendon Arena
January 18th 5:30 pm
NCCU vs Hampton University men's basketball
McDougald-McLendon Arena
January 18th 7:30–9:30
Duke vs Boston College women's basketball
Cameron Indoor Stadium
January 17th 2:00 pm
Duke vs Syracuse men's basketball
Cameron Indoor Stadium
January 18th 7:00 pm
McDonald's Rising Stars: King Holiday Classic
Youth basketball tournaments
Local Middle Schools and High Schools
January 15th–17th
Eno River Equalizer: 4 mile Team Race
Eno River State Park
January 17th
9:00 am Registration 10:00 am Race
Concerts and Festivals
Let's All Be Free Film Festival NC
Full Frame Theater
January 17th 7:00 pm
Voices Across the Centuries – Chamber Orchestra of the Triangle
Carolina Theater
January 17th 3:00 pm
Jonathan Bagg and Inara Zandmane- Viola and Piano Concert
Duke University's Baldwin Auditorium
January 17th 4:00 pm
Image courtesy: NC Collection Durham Co. Library