150 Faces of Durham highlights contributions to Durham's past and present
Posted on June 20, 2019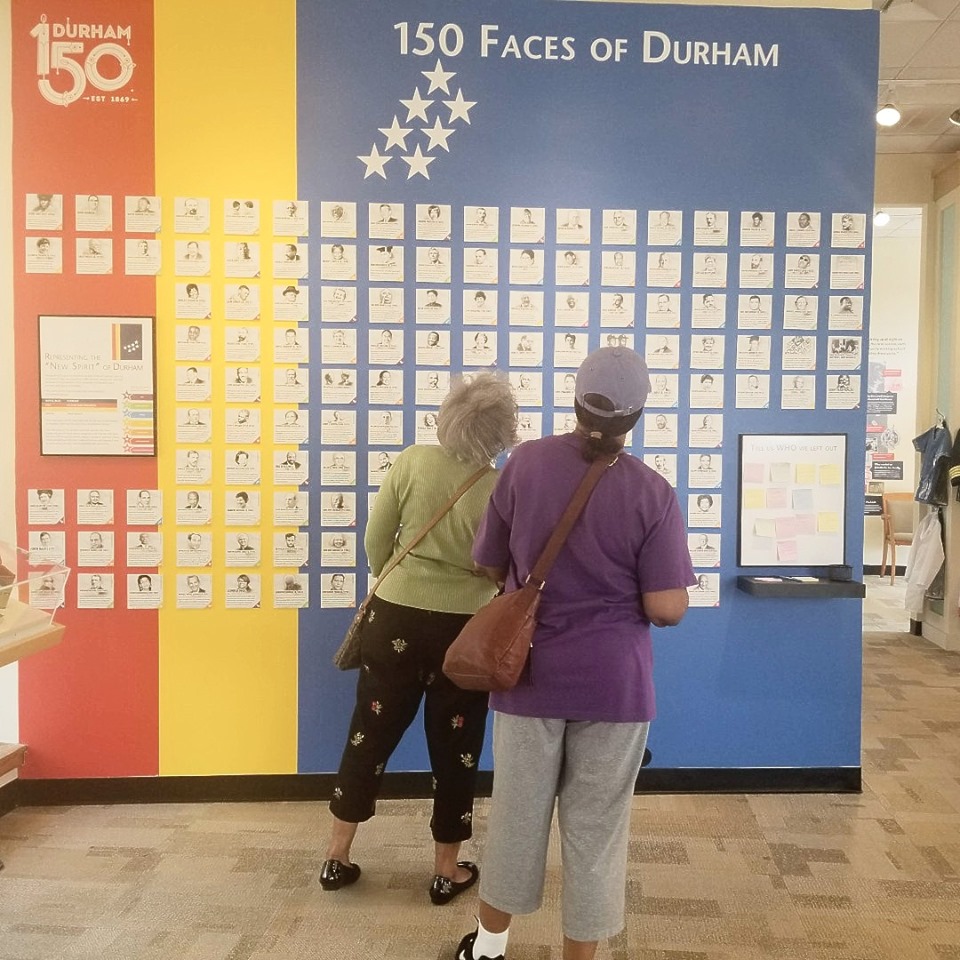 As part of programming for Durham 150, MoDH reflects on the contributions of a diverse group of 150 individuals, living and deceased, throughout Durham's rich history. With a photo and caption for every individual, the exhibit 150 Faces of Durham features a selection of familiar and lesser known faces from Bull City's past and present. Highlighting a broad range of contributions from Industry and Commerce to Arts and Human Relations, the exhibit maps Durham's development from a railway stop to a booming tobacco town to City of Medicine, to today's revitalized hub of arts and innovation.
"We were very clear from the start that the exhibit will not be just about honoring people. The Durham 150 Honors Commission did an admirable job of selecting those individuals and their contributions. 150 Faces documents our city's journey– successes and challenges alike," explains the exhibit curator, MoDH's Director of Operations Jeanette Shaffer. "We also wanted to bring attention to lesser known historical figures. Julia Latta, for example, helped establish the nursing program at Lincoln Hospital at its early stages. Lincoln Hospital and the training it provided to nurses was so important for the African American community due to limited access to health care at the time," adds Shaffer.
The Durham community has responded to the exhibit with overwhelming enthusiasm. Visitors enjoy seeing familiar faces featured in the exhibit, while sharing stories and texting photos of the exhibit to their friends. Recently, one of the 150 Faces, Vivian McCoy, found herself on the wall and later brought her friend Virginia Williams in to see herself as well. There are also several great suggestions on the "Tell Us Who We Left Out" board, for example Dr. Lucinda McCauley Harris, founder of Durham College. These suggestions may become micro-exhibits researched by our volunteers.
Whose face from Durham's past or present is familiar to you? Who do you think we left out? Come and let us know! The exhibit 150 Faces of Durham runs through September 8, 2019.